address
R. Dr. Francisco Sá Carneiro
Zona Industrial de Bouro - Letra C
4740-010 Esposende, Portugal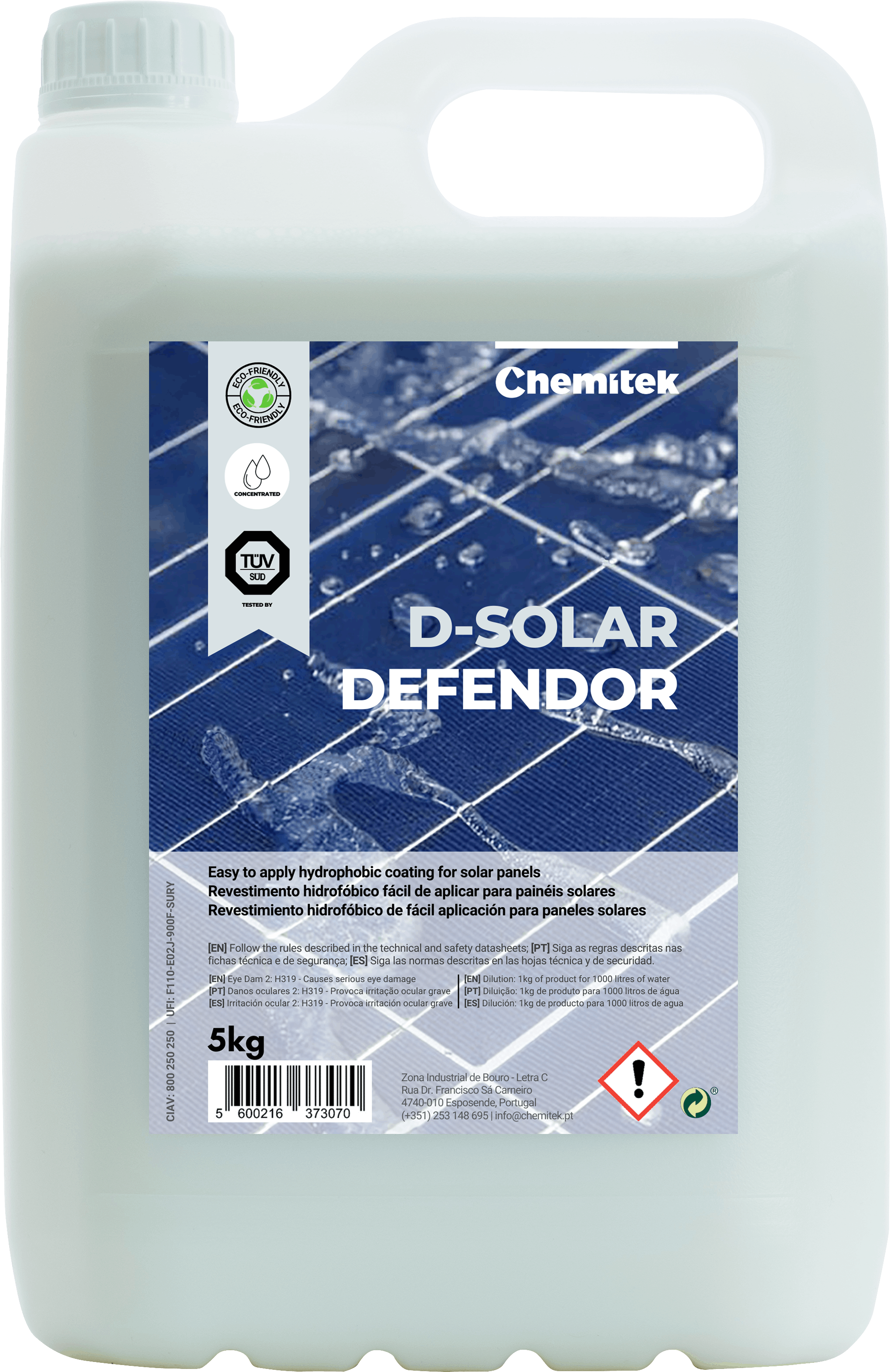 D-Solar Defendor
Easy to apply hydrophobic coating certified for solar panels – keeps the panel cleaner and easier to clean.
Hydrophobic coating for solar panels: humid and rainy environments
D-Solar Defendor (DSD) is a high-performance coating designed specifically for solar panels. It combines the hydrophobic properties with the antistatic properties, reducing dust adhesion to the modules, keeping your solar panels cleaner between cleanings, increasing the efficiency of the next wash as well as increasing radiance on rainy days, producing up to 5% more energy.
The hydrophobic coating of DSD was designed to be applied in specific climates (sometimes extreme rain, sometimes extreme drought) with a robot or brush tractor, and on solar panels that are not heavily soiled.
D-Solar Defendor is ideal for solar panel owners who want to maximize their energy output and protect their investment. It is especially beneficial for those living in areas with high levels of dust, dirt, or humidity.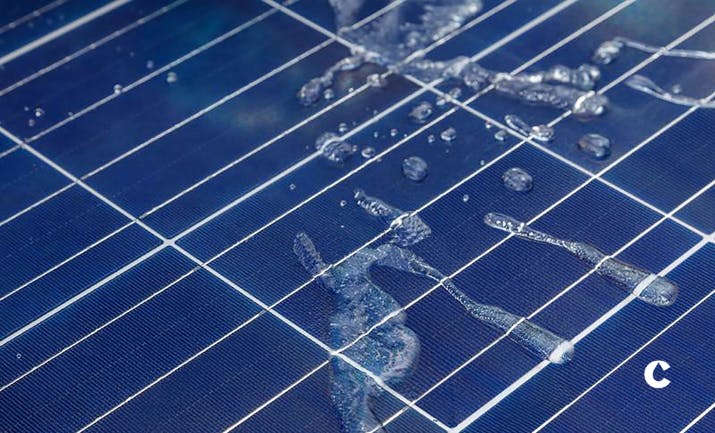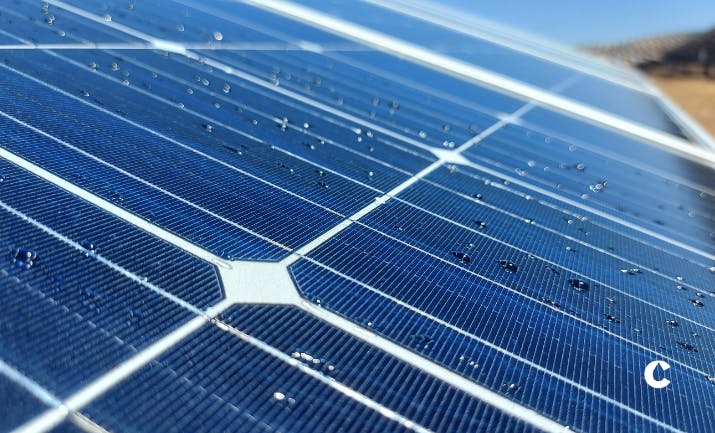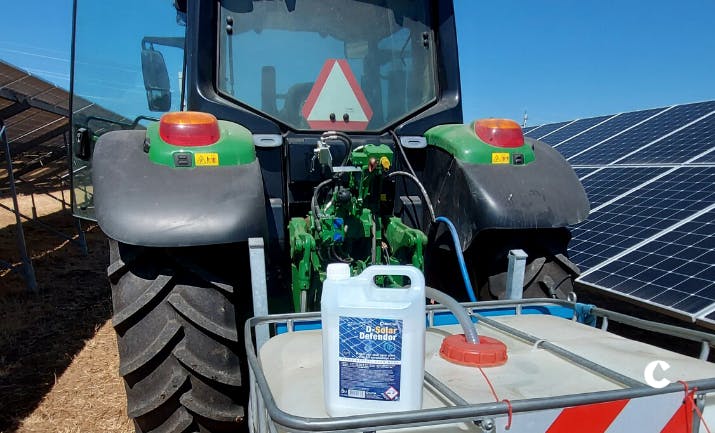 DSD's hydrophobic effect on solar panels
Water repellency effect on solar panels protected with DSD
Armbrush on tractor applying DSD coating on a plant located on rainy environment
A range of benefits ...
Improved Energy Efficiency: D-Solar Defendor's anti-reflective properties reduce glare and reflection on your solar panels, increasing energy output and efficiency.
Long-lasting Protection: this hydrophobic coating helps to maintain the cleanliness and durability of your solar panels, extending their lifespan and reducing maintenance costs. The coating lasts up to 1 year, however ChemiTek recommends applying the product twice a year when there is more soiling.
Fully tested and certified by TÜV Sud
Environmentally Friendly: D-Solar Defendor is eco-friendly and safe for use on all types of solar panels.
Industries & Applications
Hydrophobic coating on photovoltaic and thermal solar panels, photovoltaic solar roofs, etc.
Photovoltaic plant installers
Solar panel cleaning companies
Solar parks with their own maintenance teams
Available formats
2kg drum
5kg drum
20kg drum
1000kg IBCs
D-Solar Defendor gives your solar panels a hydrophobic coating which repels water and dirt from your panel, reducing dirt adhesion to your panel, water consumption, and cleaning time in subsequent washings, and thereby increasing energy production by up to 5%.

The D-Solar Defendor was designed to be applied with a robot or a tractor brush.

Yes, you should use de-ionized water, that is distilled water, with pure solvents, and free of ions, to dilute your D-Solar Defendor solution and apply it to your panels.

You can use our treatment for hard and very hard water Water Softening Agent to make your water softer in order to dilute the DSD.

Yes, this solution was developed precisely for application in extreme climates, that is very rainy or humid climates.

ASA can be applied in all kinds of climates and provides an anti static coating; D-Solar is for extreme climates (with a lot of rain or very dry) and provides an hydrophobic coating, so it will take longer to remove and requires a specific water for dilution.

The surface of photovoltaic solar panels must be clean in order to ensure full operation and maximum efficiency. Any kind of dirt that may be on the surface of the solar module, be it dust, pollen, tree sap, bird droppings, sand, salt crystals, etc., will reduce the footprint of the sun's rays, i.e. reduce the amount of sunlight reaching the solar module cells, and thus the panel will produce less power.

See here our contaminant removal agents.

To the naked eye the panels may appear clean, however there will be dirt accumulated, even if it is just the air pollution itself. A simple test to see if your panel is in need of cleaning is to wipe the surface of the panel with a white cloth or cotton pad before the actual cleaning.

According to recent studies, when a solar panel is very dirty it can lose up to 50% of its efficiency compared to a clean solar panel. However, an energy loss of 10 to 15% can be observed in panels with some dirt.

In fact, rain, snow, or wind alone does not wash the solar panels, because wind carries particles, snow because it blocks sunlight, and rainwater because it is slightly acidic and, when it dries, leaves spots that quickly attract dirt again, thus making the solar system less efficient.

A simple way to illustrate why the weather alone does not wash out the solar panels is to look at the windshield of your car. If you leave your windshield dirty for a long time, you will lose visibility due to accumulated dirt, but thanks to the cleaner that you apply and the windshield wiper, you can wash the glass and regain visibility in no time!

In this way, the solar panels are like the windshields of your car, except that they do not have readily available liquid for washing the solar panels associated with the windshield wiper.

In order for the warranty on your solar panel to remain valid, you should use solar panel cleaners that meet the manufacturers' requirements, such as ChemiTek's CRA, LRA, WSA and SWP.

However, as a rule, products with neutral pH that are tested by international laboratories and that are approved by the solar panel manufacturers themselves as they rule out any negative effect of their use on washing solar panels.

Yes, the antistatic and hydrophobic coatings from ChemiTek were developed having in mind the need to reduce cleaning time, maintenance costs and water usage.