address
R. Dr. Francisco Sá Carneiro
Zona Industrial de Bouro - Letra C
4740-010 Esposende, Portugal
Biodegradable solution to remove lichens, fungi and moss from solar panels
If you're a solar panel owner, you might have noticed a fungus growth called lichen on your panels. Not only does it look unappealing, but it also decreases the efficiency of your solar panels. Until now, removing lichen has been a challenge for O&M teams and asset owners, as the use of scrapers and aggressive chemicals voids panel warranties and requires significant resources.
But now, there is a solution that can remove lichen from your solar panels without damaging them: the Lichen Removal Agent (LRA) by ChemiTek. Developed based on market needs, this product has been tested and certified by the international laboratory TÜV Sud.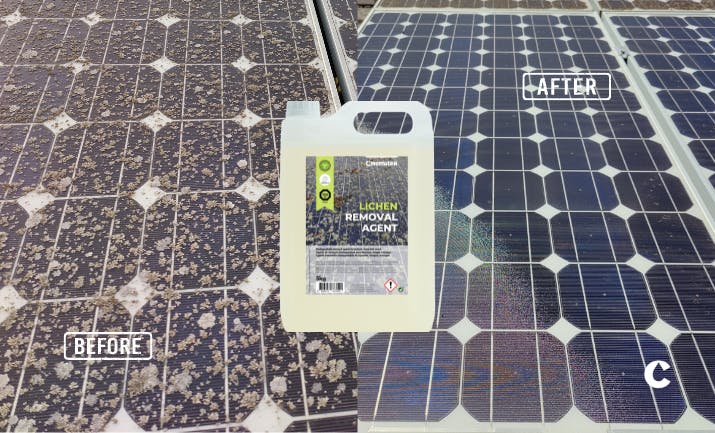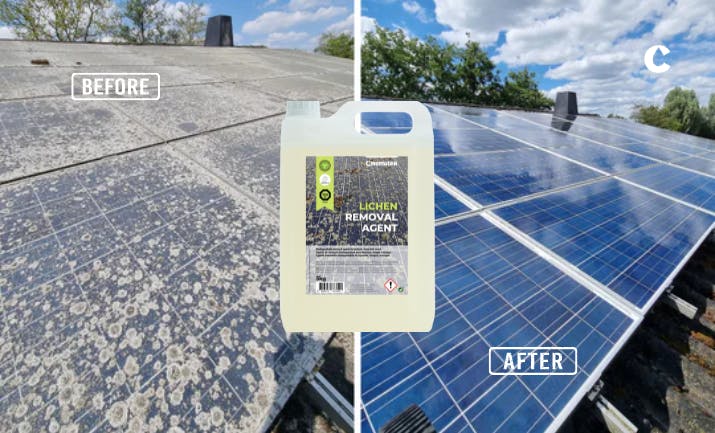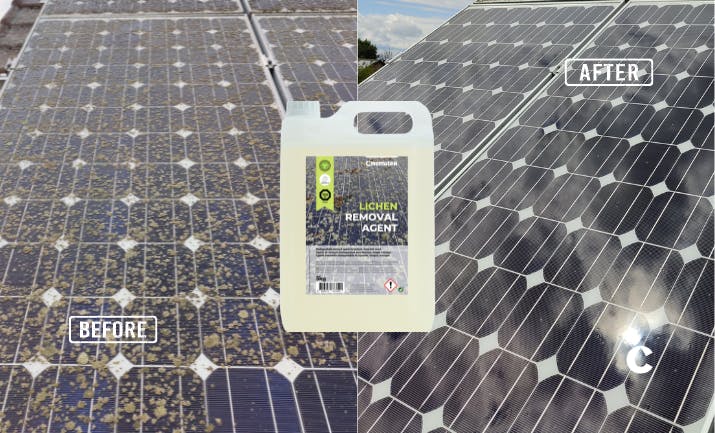 Before and after using LRA to remove lichens from solar panels
Residential client used LRA to effectively and safely clean lichens from solar panels, without needing to void the warranty
Left: Solar panel contaminated with lichens
Right: Solar panel cleaned after applying LRA
This is a remediation product and should be used as such. To avoid the recurring use of the product please act preventively and protect your modules with one of our coatings. The coating will seal the glass and any future growth of lichen will not be bonded to it so strongly thus making them easier to remove.
If you're looking for an easy, safe, and cost-effective solution for lichen, fungi and moss removal from your solar panels, LRA is the product for you. With its proven effectiveness, environmental safety, and warranty compliance, it's a must-have for any solar panel owner. Order yours today and see the difference it can make in the efficiency and appearance of your solar panels!
Easy Application ...
Lichen Removal Agent is easy to apply, saving you time and resources. All you need to do is dilute it with water, spray it on your solar panels, and let it do the work. The lichen will start to detach from the surface of your solar panels, and you can simply rinse it away.
Safe and Effective...
LRA is a safe and effective solution for removing lichen from solar panels. Unlike aggressive chemicals and scrapers, LRA won't damage your solar panels, this agent is designed to be as delicate as possible with the components of the solar module (ARC, silicone and aluminium frame). The product will help break the bond between the lichen and the solar glass, making them easier to remove, so you won't have to worry about voiding the warranty. And because it is an biodegradable product, it is safe for the environment and won't harm nearby plants or animals.
Cost-Effective...
Using LRA is a cost-effective solution for lichen removal. As it doesn't require significant human resources or aggressive chemicals, it saves you money in the long run. Additionally, by keeping your solar panels free from lichen, you will improve their efficiency and prolong their lifespan, meaning you will save money on maintenance and replacement costs.
Industries & Applications
Cleaning of photovoltaic solar panels, solar thermal panels, photovoltaic solar tiles, etc.
Installers of photovoltaic plants
Solar panel cleaning companies
Solar parks with their own maintenance teams
Available Formats
2kg drum
5kg drum
20kg drum
The surface of photovoltaic solar panels must be clean to ensure full operation and maximum efficiency. Any kind of dirt that may be on the surface of the solar module, be it dust, pollen, tree sap, bird droppings, sand, salt crystals, etc., will reduce the light transmission, i.e., reduce the amount of sunlight reaching the solar module cells, and thus the panel will produce less power.

To the naked eye the panels may appear clean, however there will be dirt accumulated, even if it is just the air pollution itself. A simple test to see if your panel needs cleaning is to wipe the surface of the panel with a white cloth or cotton pad before the actual cleaning.

According to recent studies, when a solar panel is very dirty it can lose up to 50% of its efficiency compared to a clean solar panel. However, an energy loss of 10 to 15% can be observed in panels with some dirt.

In fact, rain or wind alone does not wash the solar panels. The wind carries dust particles, and the rain, specially in small quantities will catch any dust in the air and, when it dries, will leave dirt spots, thus making the solar system less efficient.

A simple way to illustrate why the weather alone does not wash out the solar panels is to look at the windshield of your car. If you leave your windshield dirty for a long time, you will lose visibility due to accumulated dirt, but thanks to the cleaner that you apply and the windshield wiper, you can wash the glass and regain visibility in no time!

In this way, the solar panels are like the windshields of your car, except that they do not have readily available liquid for washing the solar panels associated with the windshield wiper.

For the warranty on your solar panel to remain valid, you should use solar panel cleaners that meet the manufacturers' requirements, such ChemiTek's products.

However, as a rule of thumb, use products with a neutral pH, that are tested by international laboratories and approved by the solar panel manufacturers themselves. This will rule out any negative effect of their use on washing solar panels.

1kg of product for 10 litres of water.

For more information, see the Technical Data Sheet or contact us.

LRA is a removal agent for lichen, moss and fungi designed specifically to be used on solar panels

LRA is a biodegradable product designed to be as delicate as possible with the components of the solar module (ARC, silicone and aluminium frame). The product will help break the bond between the lichen and the solar glass, making them easier to remove.

In case of doubt, contact us.

LRA is a remediation product, and it should be used as such. To avoid the reappearance of the problem, you should act preventively and protect the modules with an hydrophobic coating such as the D-Solar Defendor from ChemiTek.
documents
Brochure
Technical Sheet
Request quote