address
R. Dr. Francisco Sá Carneiro
Zona Industrial de Bouro - Letra C
4740-010 Esposende, Portugal
Careers at ChemiTek
Take your next step in the innovation sector. Join our team and help us build a more creative and greener world!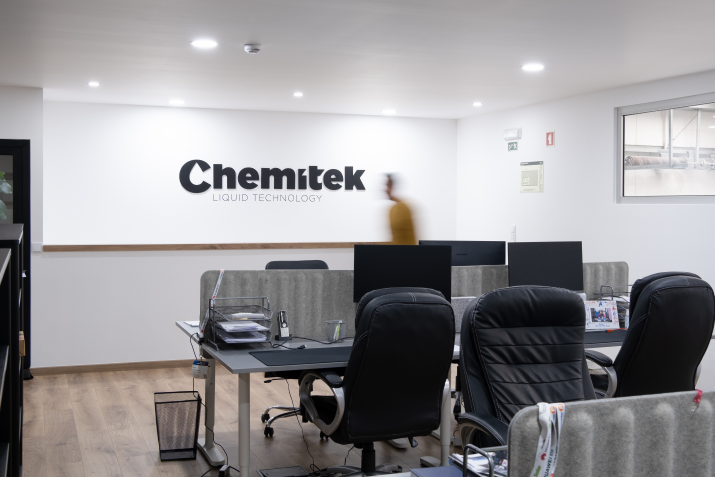 Why You Will Love Working Here
As a member of our small and impactful team, each of your contributions makes a visible difference. You'll collaborate with talented teammates in an environment that values your life outside of work.
Continuous Learning
Curiosity is our compass. We invite our employees to try, fail, and have the courage to try again, to ensure that our team is always building new competencies.
Social Contribution
Every year ChemiTek donates 0,5% of our after-tax profit to non-governmental organizations. All employees can nominate recipient organizations.
Parental Leave
ChemiTek believes that parental leave is very important, we comply with all legislation and flexibility for employees with new children.
Shape the Company
ChemiTek believes in collaboration, and this is one place where your opinion can really make a difference. We believe that no matter what job you do, it's the people you work with that do a good job! That's why we hand-pick our team members based on a commitment to our core values, a strong work ethic, and exceptional skills.
Competitive Salary
Compensation is an important part of any role and person, so we try to pay you fairly for the value and experience you provide.
Great Location
We are based in Esposende, a beautiful town in the Braga district about 30/35 min away from Braga and Porto by car, with good weather, and 5 min away from the beach by car. What more could you want?
#InItTogether
We always put the whole company first - when we succeed collectively, we all succeed individually. Everyone has a voice: we listen to each other's opinions.
#CustomerCentric
Our customer's interest are at the center of our decisions. We think about them when we develop a new solution, we think about them when we communicate, and we think about customers from the first moment to the last.
#WorkingForAGreenerWorld
At ChemiTek we believe in a better world. We ensivion a future where biodegradability and environment friendliness are the starting point to the development of any chemical product.
This person will be accountable for proactively generate leads and convert them into sales opportunities with focus in the solar industry. He/she will be mentored into the solar industry and is expected to assist in the day-to-day activities related to business development and sales, while proactively generating leads and converting them into sales opportunities.

Research and analyse specific business partners within the assigned areas and markets, generate quality leads and close deals;
Analyse and develop customer potential by identifying key/unmet needs and translate them into innovation opportunities;
Continuously monitor market trends and competitive landscape to identify new opportunities and business;
Provide training to new clients and daily support to the distributors;
Ensure efficient information exchange between internal teams and external partners;
Regular national/international travels to meet customers and participate in events;

Graduate or Master's degree in Management, Marketing or Engineering;
Business and customer oriented, with minimum 2-4 years' experience in sales;
Experience in managing key accounts (international);
Experience in the solar industry is a plus;
Outstanding communication capabilities, fluent in spoken and written English (Spanish, French or German are a plus);
Outstanding presentation, negotiation, and relationship-building skills;
Self-driven, proactiveness and resiliency;
Up-to-date computer skills including strong literacy in Microsoft Office Excel, Word, Power Point and CRM/ERP;

A unique opportunity to join a young company set to become an industry standard;
Supportive & low hierarchy team with a strong sense of humor while in a high pace environment;
Brand new office in Esposende, Portugal;
Coffee and snacks;
That beach scent in the morning and lunch on Fridays with an ocean view;
And of course, tons and tons of wind every day! 🍃😉
Spontaneous Application
Spontaneous Application
If you see yourself in our values and if you are interested in joining our team ...