address
R. Dr. Francisco Sá Carneiro
Zona Industrial de Bouro - Letra C
4740-010 Esposende, Portugal
TOP 5 Brushes for Professional Manual Cleaning of Solar Panels
Dirt can reduce the energy output of the photovoltaic system by up to 20%. The rain, condensation and wind are nowhere near enough to clean solar panels efficiently.
Therefore, the type of brush used for cleaning solar panels is particularly important to avoid damaging the panels. Soft brushes will not damage the panels; however, the choice of softness depends on the type of dirt to be removed. For this reason, you should make sure you use the right type of brush for photovoltaic solar panels.
SOLA-TECS C by Cleantecs offers a professional solution for cleaning and maintenance of solar energy and photovoltaic systems. Brush for cleaning photovoltaic panels with pole systems from the ground or roof, ensures the best cleaning from the ground, roof or lifting platform. The rotating brushes are guided using a telescopic boom or modular poles. Its low weight makes this brush very practical and easy to handle.

It is based on motorless technology, with which the brush rollers are rotated by a high-pressure cleaner. With their compact designs, low contact weight and orientation through telescopic lances, these mobile devices guarantee quick and easy cleaning of all photovoltaic systems. Great results in other areas too, whether it's cleaning windows and buildings or cleaning conservatories.
The Tucker Phantom Alpha is the latest generation tool for heavy duty scrubbing of extremely dirty solar panels and windows. The outside of the brush is secured with long boar bristles, allowing the natural fibers to settle into the glass, while the shorter nylon bristles on the inner brush provide easy gliding across the surface.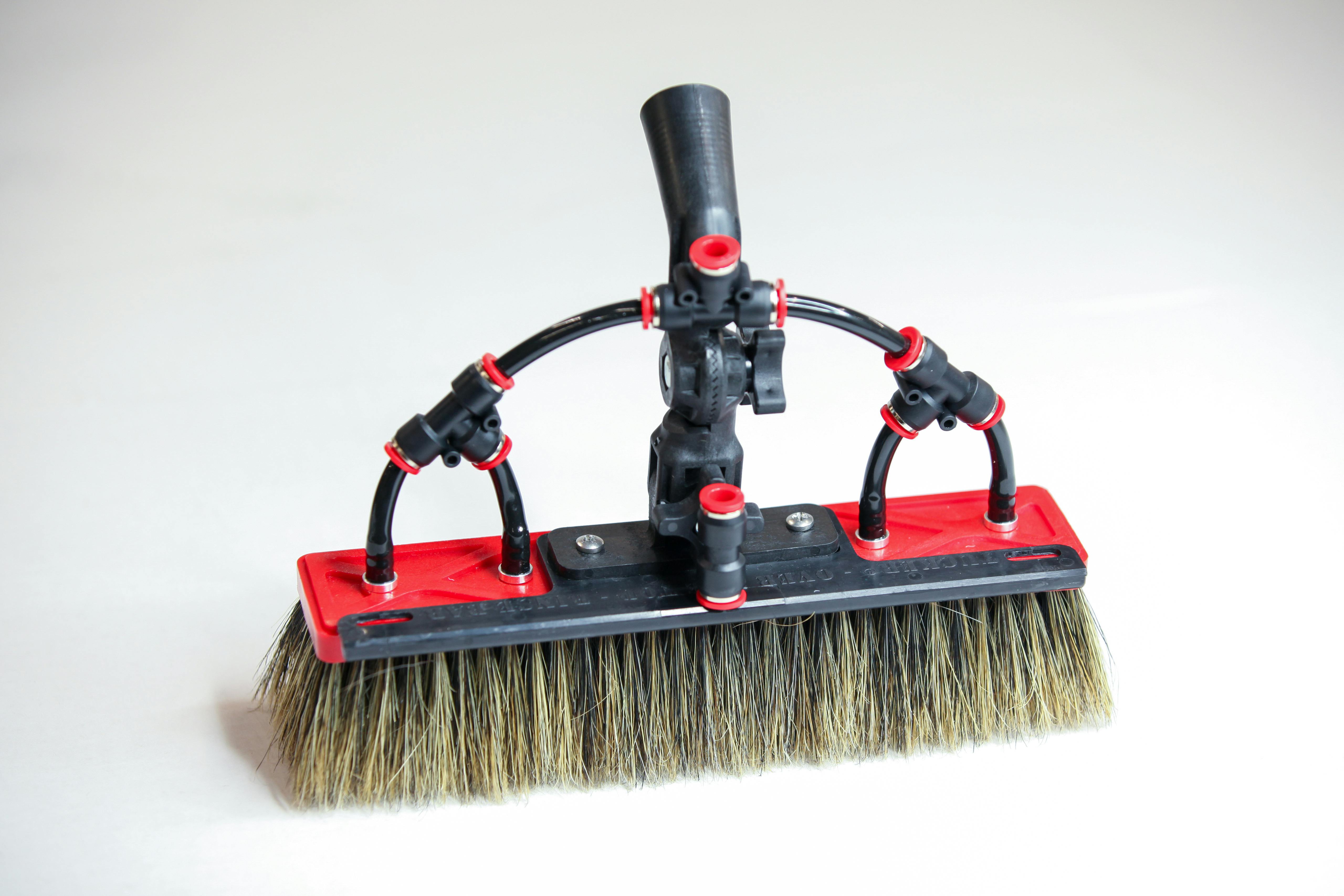 This brush is composed of 4 pencil jets, keeping the rinsing water in powerful jets to eliminate dirt, and maintaining a constant flow of clean water. Alternatively, this brush also comes with a swivel gooseneck and our unique rinse bar on top. This is the ideal water powered brush for those who need speed during heavy cleaning.
ROTAQLEEN, a rotating brush that cleans quickly and thoroughly, and is particularly multifunctional. It is simply mounted on QLEEN poles and can be used from the ground up to a height of 21 meters for glass, façade, or solar cleaning work.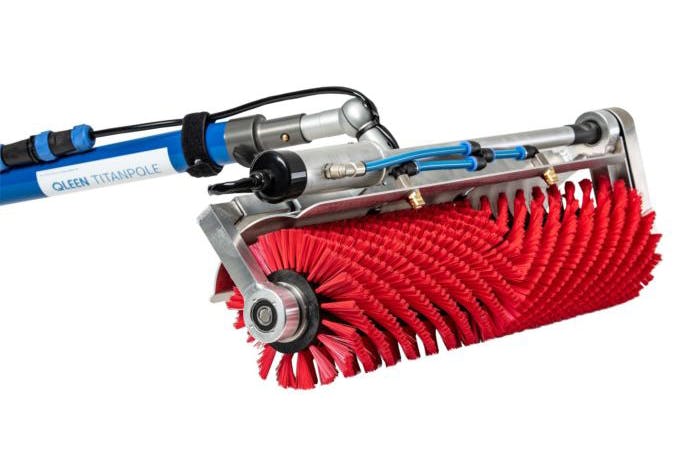 The electrically operated brush is specifically designed for thorough cleaning of large horizontal solar panel areas. Electronic jets positioned on each side of the rotating brush for optimal cleaning.
The weighted brush head and rotating bristles glide efficiently over extremely large surface areas.
The angle or direction of the brush is controlled by a patented joint for precision and user ease with a simple twist of the pole. Controlled by a wireless remote, the operator can change the direction of brush rotation, water flow and, if necessary, the use of the cleaning solution (certified products for use in solar panels).
Cleaning work can be carried out with QLEEN systems without scaffolding, lifting platforms or elevating platforms to a height of 21 meters. Save planning effort, time, and money optimizing cleaning.
Lightweight brushes, designed to get into the smallest corners and lift dirt with a highly effective scrubbing action, and without the risk of damage to the delicate surface of Solar and PV panels.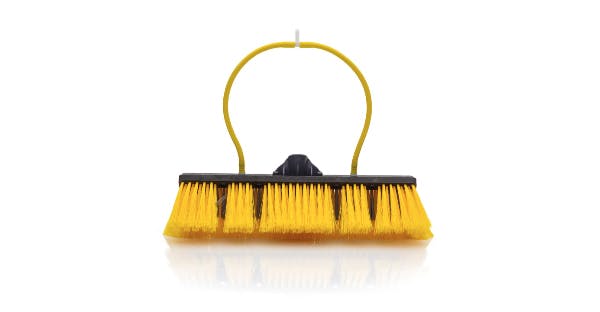 The Unger nLite Solar brushes have a radius profile and the soft polyester bristles are unflagged to eliminate the possibility of debris retention. They are cut to two lengths to provide maximum cleaning performance.
The lightweight brush stock (body) has interchangeable jet locations and quick-change jets. All Unger nLite Solar brushes are supplied with 2 x pencil jets and connecting hose.
There are numerous ways in which the iSolar brush can be used. Wherever solar and photovoltaic systems are installed - agriculture, commerce, industry or at home - iSolar can ensure that the sun's energy is properly harnessed.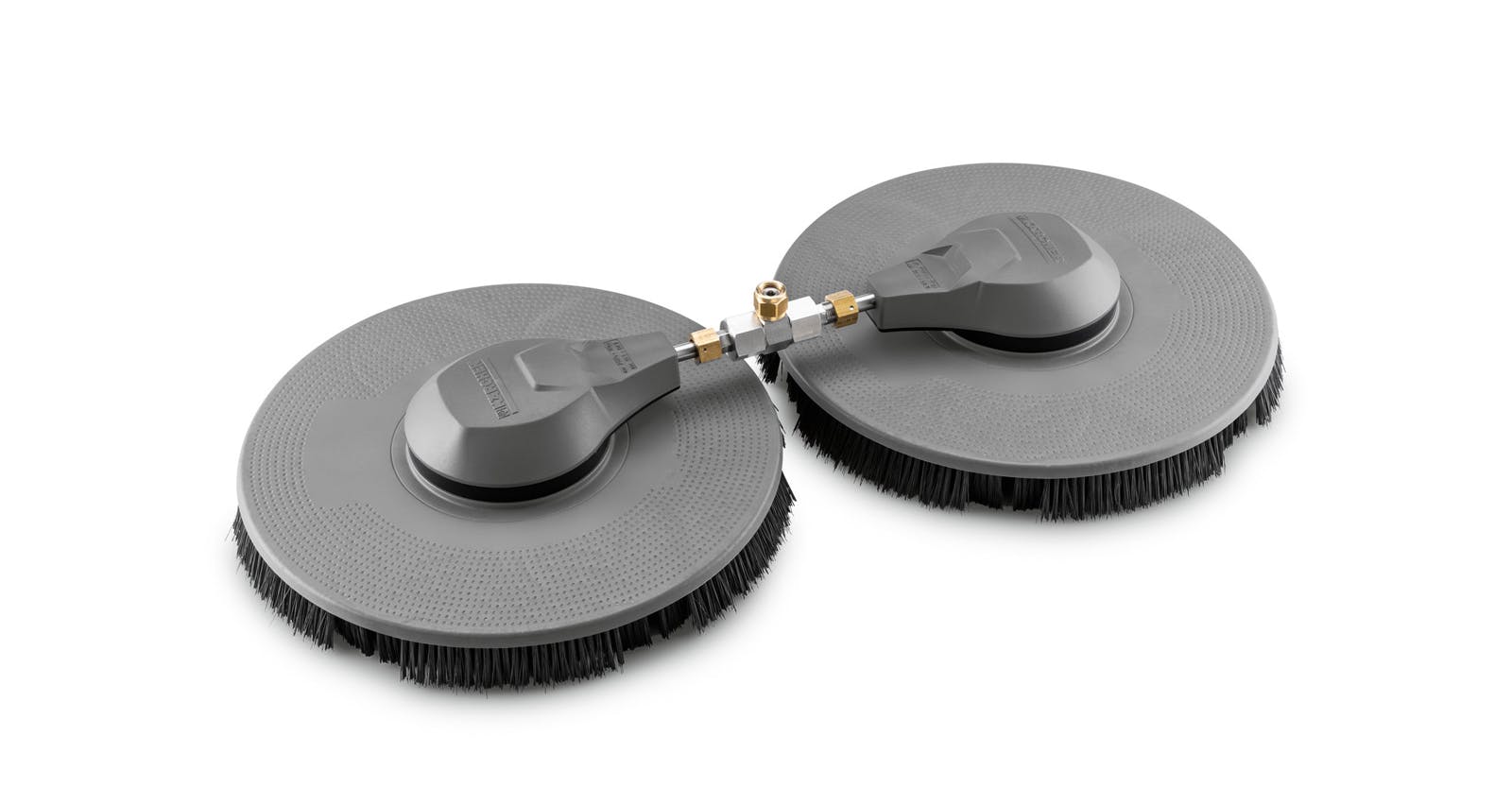 In agriculture, the main problems are dust from neighboring fields and exhaust fumes from stables. This system can be especially useful in areas exposed to heavy soiling.
The iSolar 800 brush head with 800mm working width works with two counter-rotating disc brushes. The counter-rotating brushes balance out any transverse forces and make cleaning easier. The flexible angle joint in the brush head connection ensures that the bristles lie flat always having full contact with the surface allowing a uniform cleaning.
Even very large systems like those often found on barn roofs can be cleaned in no time thanks to the high performance of the area. results. This means that photovoltaic systems can be cleaned perfectly with consistently uniform results.
Do you have any suggestions or topics about the solar universe you would like to read here? Reach us by email (and go solar)!