address
R. Dr. Francisco Sá Carneiro
Zona Industrial de Bouro - Letra C
4740-010 Esposende, Portugal
Top 5 Robots for Solar Cleaning
Manual cleaning in solar parks or rooftop installations is often not feasible, due to its scale, so you will need to use some help. A big share of solar assets owners or maintenance teams use robots to optimize the cleaning of photovoltaic solar panels.
It is the most versatile cleaning method regarding the scale of the installations and its use is raising as fast as the Solar Industry.
Each robot has its advantages and limitations, so you need to make sure that you choose the right robot for your needs. Before buying, do your research and talk with others that already use them. Most solar cleaning companies are really approachable and will share with you their experience.
Based on our experience and of our partners, you can check our top 5 recommendations (in no particular order) for PV solar panel cleaning robots.  Let's check what their manufacturers say about them.
The F1 by SolarCleano is a remote-controlled solar panel cleaning robot with a high cleaning capacity.
The SolarCleano F1 has been designed to meet all your needs in cleaning all types of installations. Suitable for wet and dry cleaning on any type of solar installations. The robot can be dismounted into 4 parts for easy transportation. Highly mobile, it can be easily carried and operated by one person. The assembly and disassembly of robot can be completed within 3 minutes. The robot is battery operated and controlled from the ground.
Mains Specifications:
For wet and dry solar panel cleaning.
Connects to standard garden hoses of 13-15mm in diameter and of 2.0 - 8.0 bar solar panel cleaning water pressure.
Valves to regulate water consumption.
Certified NO microcracks after electroluminescent test;
Central electric switching box. Power supply by lithium-ion batteries enabling an autonomy of 2h30m.
Camera for safe remote operation.
Helicoidal brushes of 1.1m, 1.2m, and 2.2m with 2 bristle types for both wet and dry cleaning.
Easily cross any gap up to 70 cm.
Specialized pads to clean at 25° angle with water.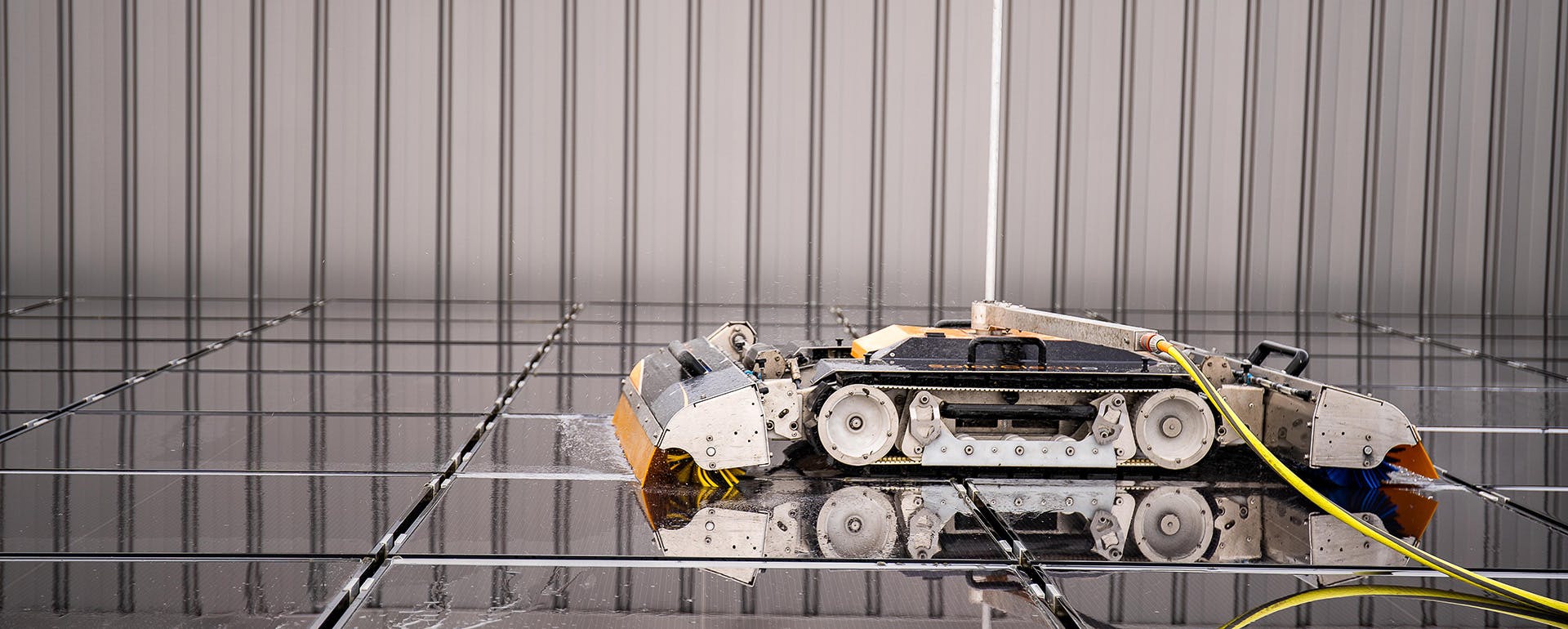 The hyCLEANER specializes in cleaning ground-mounted PV systems and roof-mounted installations. In just a few steps, the machine is mounted and ready for use without the need of any tools. The integrated automated driving function with lane keeping system and speed control, allows the machine to drive independently over the panels. Thanks to the standard edge detection system with fall protection sensors, the robot stops automatically when it reaches the edge of the solar panel.
Mains Specifications:
Easy operation via radio-remote-control with a range of 100m.
Adjustable driving speed.
Self-supporting brush that also ensures an easy cleaning of the edges.
Cleans even on transverse slopes.
The surface load is considerably below the allowed wind and snow loads.
Easy to handle due to its modular design and lightweight components;
Several fixing and fastening points allow a flat positioning of the solar panel cleaning robot on the solar surface.
All types of water treatment systems and osmosis plants can be used.
Easy change of the driving pads via Velcro fastener.
Operating pressure 2-8 bar.
Minimized water consumption.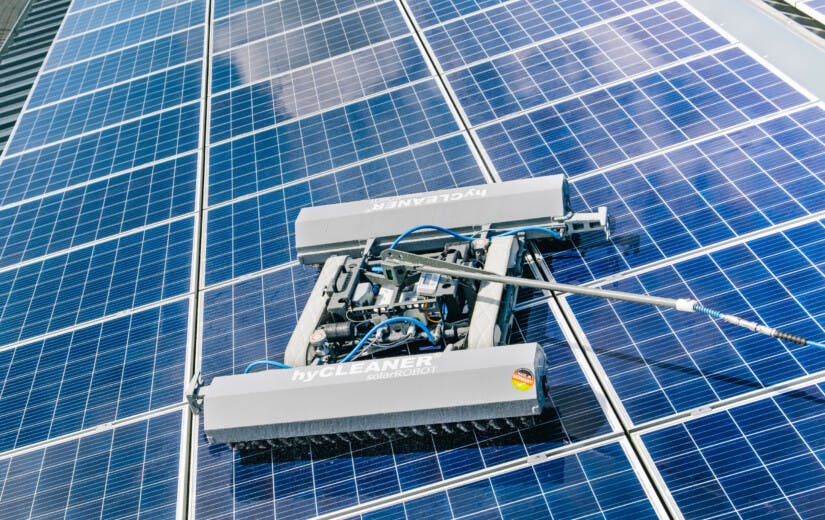 Designed to clean PV panels on roof tops and solar farms, which are difficult to access, the GEKKO Solar by Serbot it is a compact and versatile robot that can easily be moved from one place to the other. Therefore, it's best suited for cleaning companies, offering their service to PV plant owners.
The GEKKO Solar cleans rigorously by rotating brushes, executing a constant pressure on the panels and the use of demineralized water. Is typically used together with a mobile work platform: from here, the operator can lift the robot comfortably to the roof and control it by radio using a joystick.
GEKKO Solar is also suited for small solar farms with narrow panels. In this case, a support wagon supplying water, electrical power and pressurized air ensures an independent operation.
Mains Specifications:
High cleaning efficiency: 4 times faster than manually.
Easy handling: operating by joystick and radio control.
Cleaning efficiency reaches maximum up to 1'040 m2 per hour.
Average cleaning efficiency reaches up to 670 m2 per hour.
Easy operation little trolley for water an energy supply with a hose of about 100 m in length.
Precise cleaning: with even quality.
Steep rooftops included: up to 45°.
Improved safety: no working on roof tops.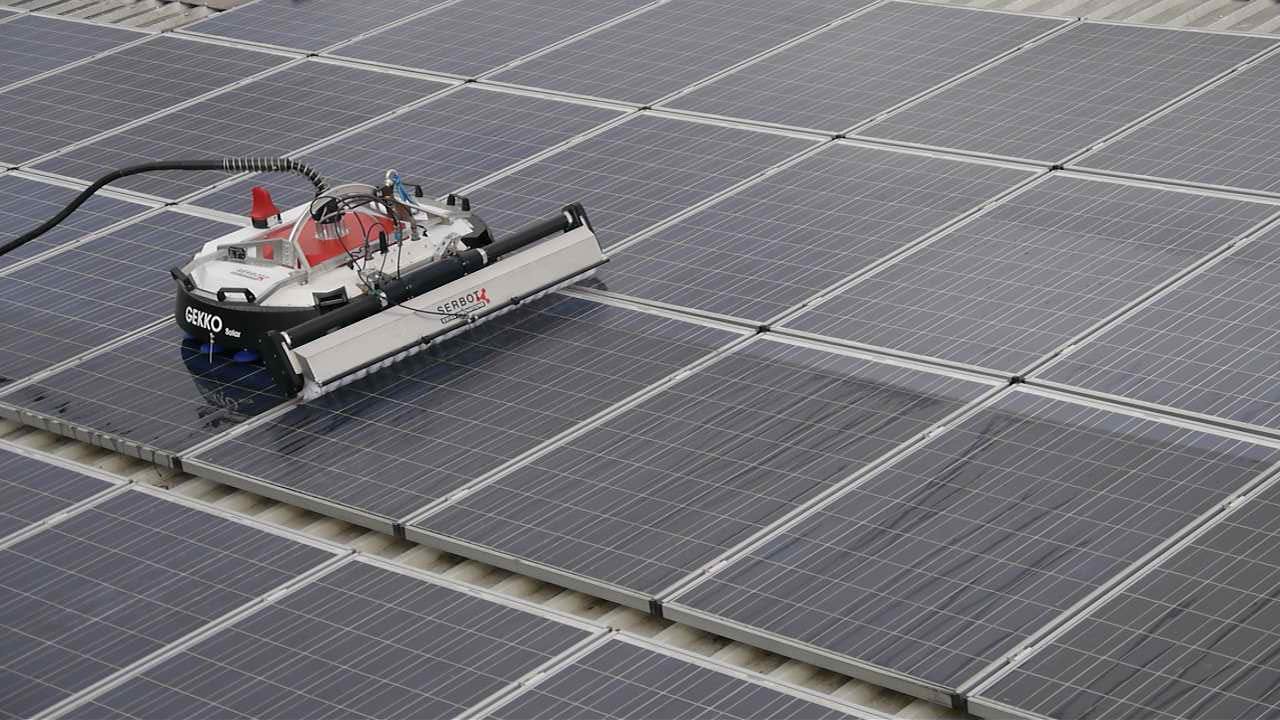 The 4-in-1 cleaning system. A cross-product modular system and individual extensions. Different sized robot manages different levels of inclination.
The most important parts of the Sunbotics series are the motorized quick coupling System and the intelligent carrier arms. Every Sunbotics product is based on these two features. When purchasing a Sunbotics machine, most of the other products are always included and your product will be expanded in just a few simple steps. Easy to handle you can carry your equipment comfortably onto the roof – without the need for a lifting platform. Disassemble your equipment conveniently and quickly on the ground and reassemble the individual parts on the roof. Sunbotics carrier arms have a high strength aluminium core, having a lower overall weight.
Mains Specifications:
The suspension system is equipped with a remote control of about 100m range.
Clean on up to 25° with a 1,45 m brush size, the larger versions with a 2,10m or 3,20m brush size can drive on up to 20°.
Power & battery operated - the sunbotics e-Boxes are available in different versions, all operated either via power connection or rechargeable battery.
Overcoming obstacles - Overcomes module gaps of up to approx. 60 cm. Height-adjustable brushes that allow to easily overcome slight height differences of up to approx. 15 cm.
Anti-splash - The robust splash guard is made of truck tarpaulins.
Integrated water tanks.
The shifted brushes that ensure that best possible cleaning results.
The specially designed rubber profiles of the chains easily provide extra grip for vertical driving on inclinations of up to 25°.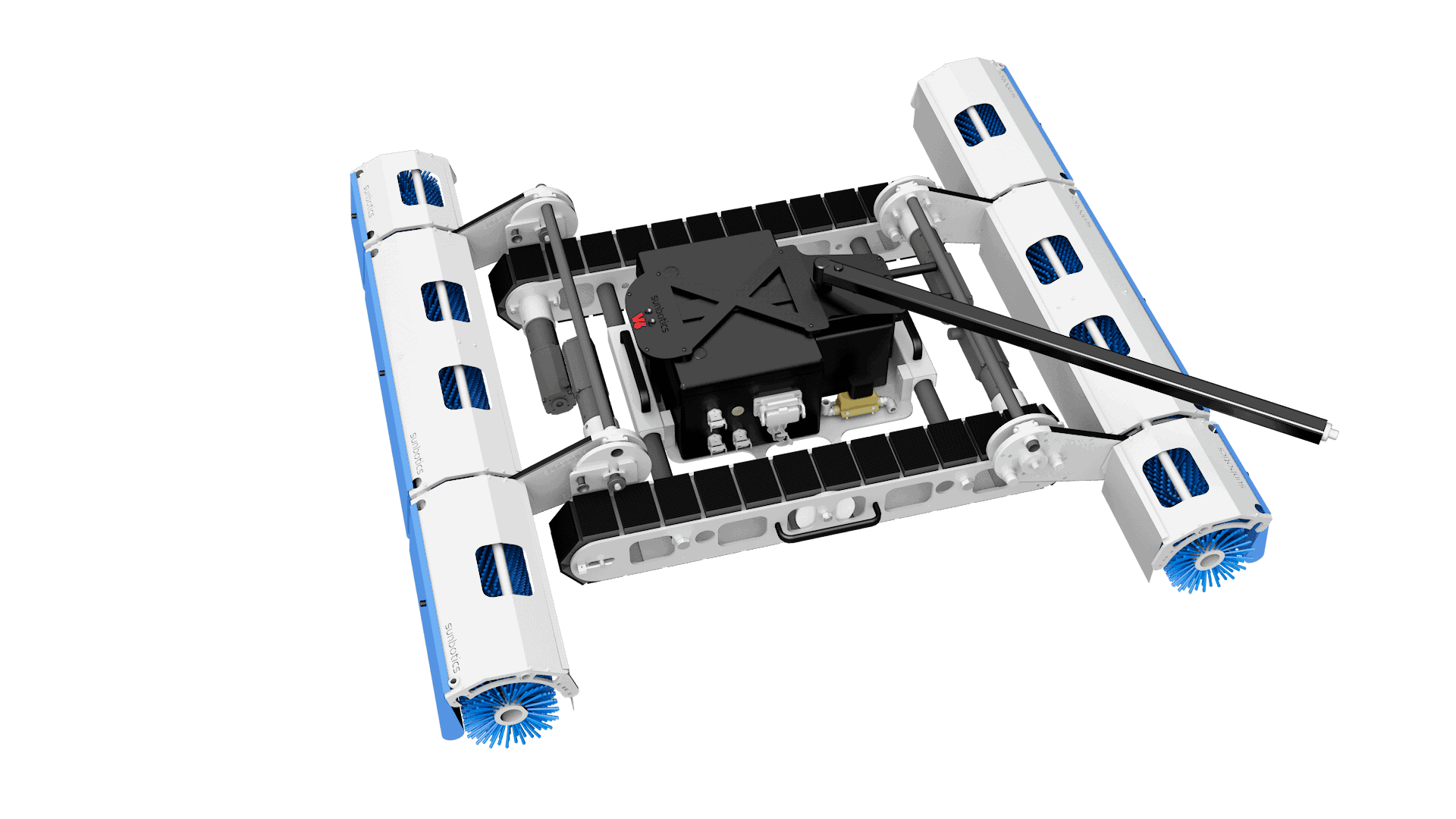 The S1 Model by SCM is an automatic programmable robot with double brush system. Individua or interconnected by groups. 
Mains Specifications:
Automatic traction.
Dry and wet cleaning capacity.
Powered by alternating or direct current.
Adaptable 25 cm to different panels sizes.
Double brush.
Overcoming of jumps, makes jumps of up to 50cm.
Programmable automatic cleaning robot. Lengths from 0.80 to 6 meters
Possibility of programming cycles.
Possibility of interconnecting several units- 2 to 7 machines simultaneously.
Possibility of battery power supply.
2 metres length is portable. Lengths longer than 2 meters require an auxiliary crane for handling.
Possible to use on rooftops.
Certified and approved.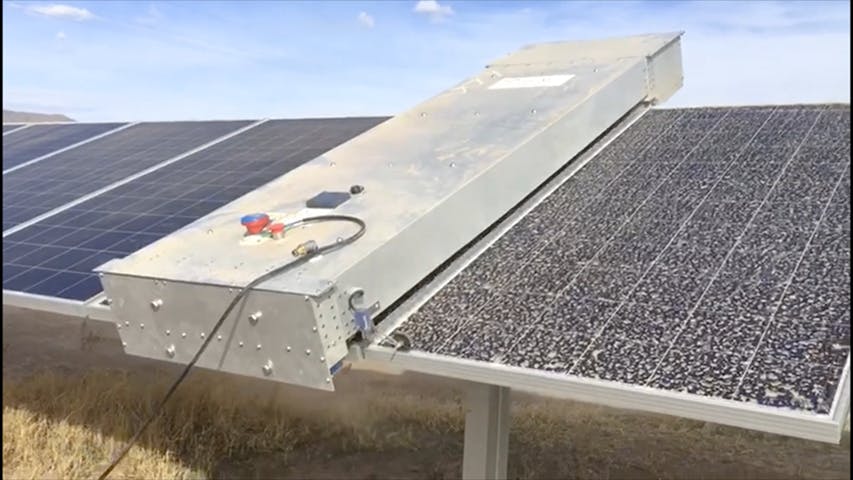 Do you have any suggestions or topics about the solar universe you would like to read here? Reach us by email!