address
R. Dr. Francisco Sá Carneiro
Zona Industrial de Bouro - Letra C
4740-010 Esposende, Portugal
Enhance the Performance of Your CSP Mirrors
Mirtek is an antistatic and antiadherent coating for CSP mirrors. This high-quality, advanced solution is designed to protect CSP mirrors from dirt buildup and increase energy efficiency. The coating is applied directly to the surface of the mirrors to enhance their performance and durability, keeping the mirrors cleaner ad easier to clean.
The antistatic coating of Mirtek works by forming a protective layer on the surface of the mirrors. The coating contains advanced antistatic properties that reduce the reflectivity loss, leading to increased energy efficiency and power output, and reduce dust and dirt buildup, leading to efficient, cleaner and easier to clean mirrors.
Mirtek is ideal for CSP plant operators and maintenance teams who want to improve the performance and durability of their mirrors. The coating is suitable for use on all types of CSP mirrors.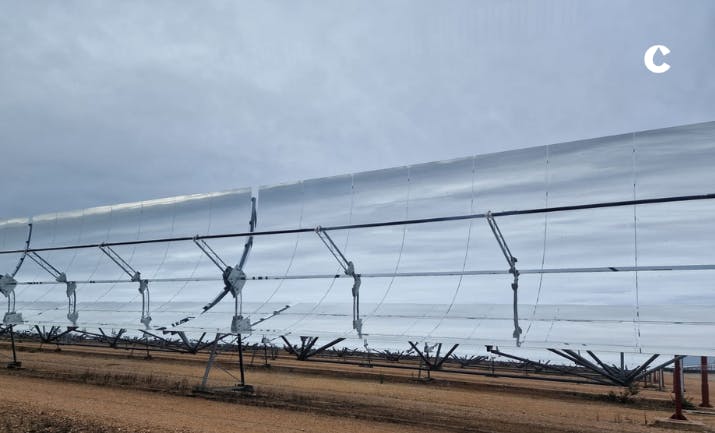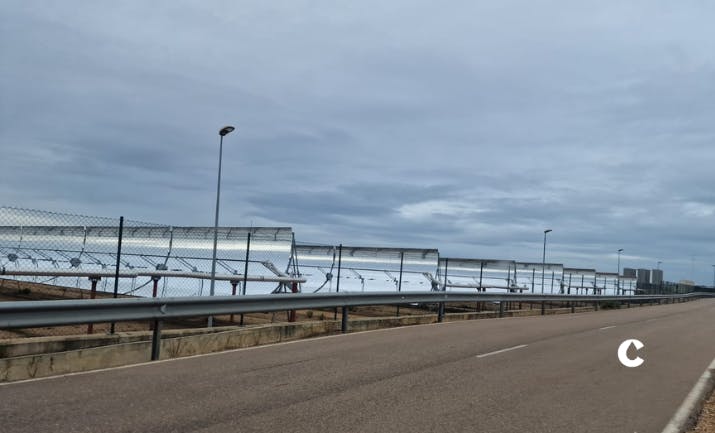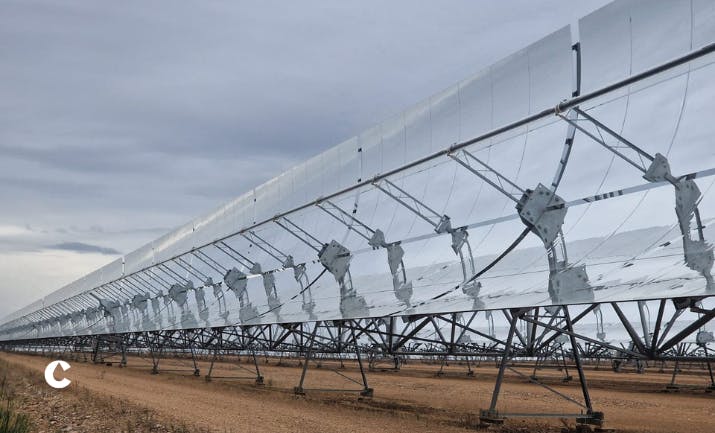 CSP Plant with Mirtek solution applied
Mirtek protection for CSP Plant
A range of benefits ...
Mirtek offers a range of benefits, including:
Increased reflectivity: The coating improves the mirrors' reflectivity, leading to enhanced energy efficiency and power output;
Enhanced durability: The coating protects the mirrors from damage and weathering, extending their lifespan and reducing maintenance costs;
Improved cleanliness: The antistatic properties of the coating reduce the accumulation of dust and dirt, leading to cleaner and more efficient mirrors;
Cost-effective solution: Our coating is a cost-effective solution for maintaining and optimizing CSP mirrors, providing long-lasting results, cutting cleaning time and costs.
Easy to apply: This innovative coating reduces the loss of reflectivity by keeping the mirror cleaner with jetwash or brush. It does not need rinsing when applying - it should be applied during normal cleaning operations.
Industries & Applications
Protection and soiling mitigation for mirrors on CSP plants cleaned with distilled water
CSP plants cleaning companies
CSP plants with their own maintenance teams
Available Formats
Yes, you should clean CSP plants because soiling and dust accumulation in reflectors for CSP plants decrease their reflectance and, consequently, the solar field efficiency.

No, because Mirtek is not a cleaning solution, but rather an anti-soiling coating with antistatic and non-stick properties for all types of solar mirrors for CSP plants, and therefore repels dust and reduces the adhesion of dust and dirt to the reflectors, keeping the mirrors cleaner and easy to clean.

According to results obtained in several studies, the most effective cleaning method for CSP plants is the one based on demineralized water and a brush, with an average efficiency of 98.8% in rainy periods and 97.2% in dry seasons.

Click here to learn more about the proper type of water to use for cleaning solar panels.

Yes, the Mirtek is a concentrated product. The dilution rate is 1kg of product Mirtek in 1000L of distilled or demineralized water.

In case of doubt contact us.

After dilution, clean the mirrors as you normally do. It is compatible with cleanings made with jet washing equipment or rotative brush.

Mirtek can be applied with both jet wash and brush vehicles.

The shelf life of the product is 6 months. After opening the package, the product is valid for 15 to 30 days. The product should be stored on dry and cool place and away from direct sunlight.
documents
Brochures
Technical Sheets
Request quote