address
R. Dr. Francisco Sá Carneiro
Zona Industrial de Bouro - Letra C
4740-010 Esposende, Portugal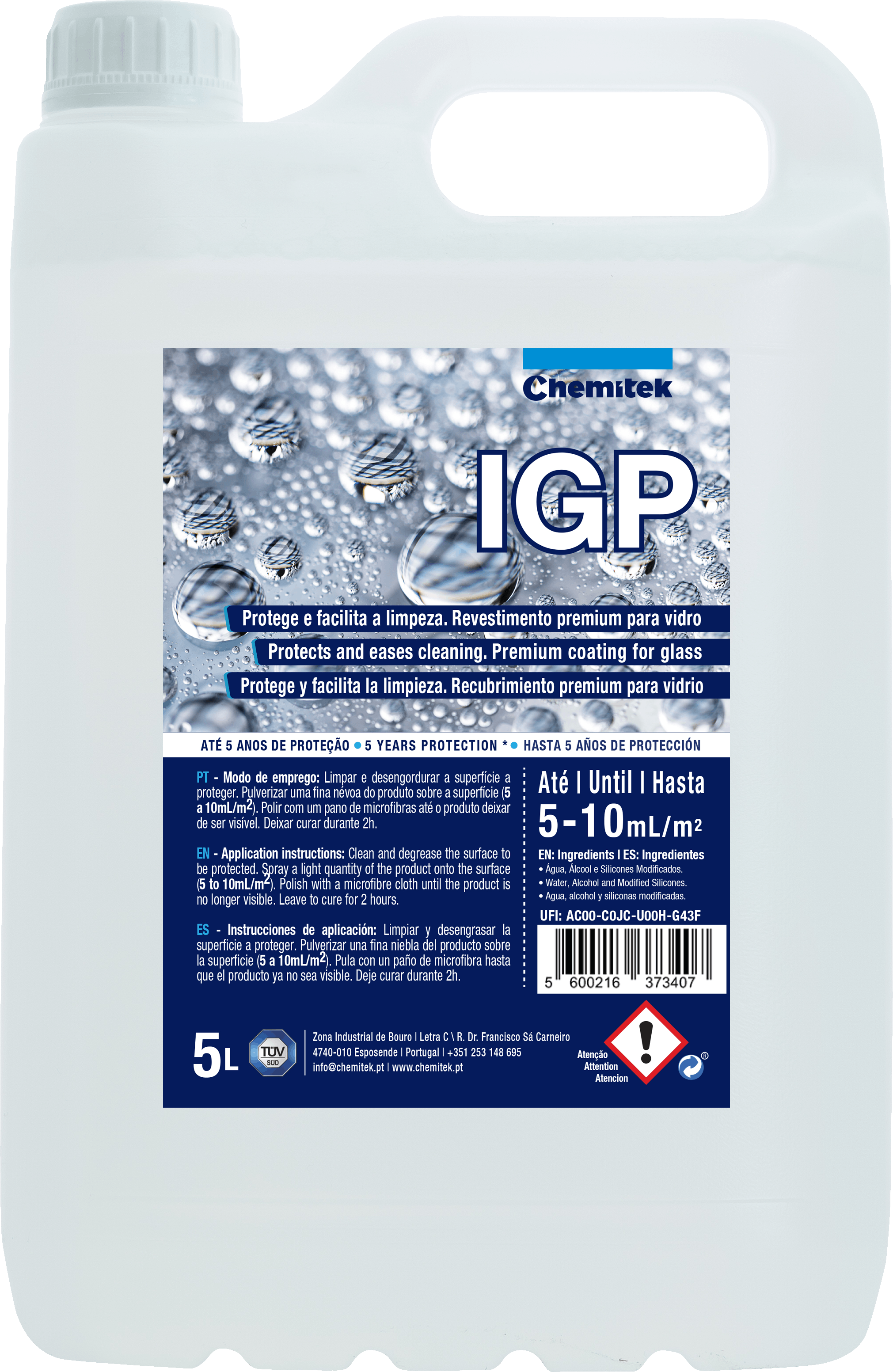 IGP PRO
Invisible, hydrophobic, and oleophobic treatment for glass, tiles, joints, and metals.
Cuts cleaning time by 90% during 5 years
The IGP PRO is a long-lasting (5 years) hydrophobic (water-repellent) and oleophobic (oil-repellent) invisible treatment, easy to apply on all types of glass, tiles and grouts, stainless-steel and chromed fixtures.
This top-of-the-line treatment is a clear protective coating that chemically bonds to the surface, creating a non-stick barrier, resisting to corrosion, etching, and staining. Although cleaning is made easier and less frequent, the need to clean is not eliminated. Treated glass becomes both hydrophobic and oleophobic protecting against most forms of dirt, minerals and grime.
As a premium treatment, the IGP PRO not only reduces cleaning time by up to 90%, but also reduces both the frequency and time spent cleaning, thus maintenance costs can be significantly reduced. Glass stays visibly cleaner for longer.
A Variety of Applications ...
Glass Rooftops & Skylights

Stainless Steel and Chrome Fixtures

Mirrors
Value added to your glass with IGP PRO
IGP PRO enables glass processors to differentiate from the competition by producing easy clean, low maintenance glass that offers great value to customers, and a value-added service that drives increased revenue.
At a minimal cost per sq. m/ft the treatment to the glass can be applied either by major glass fabricators, or in situ to installed glass.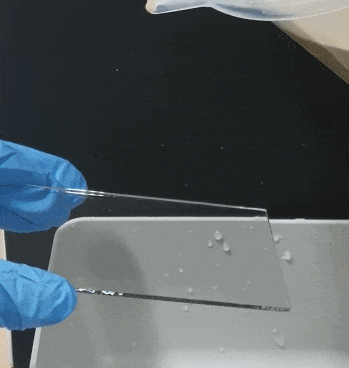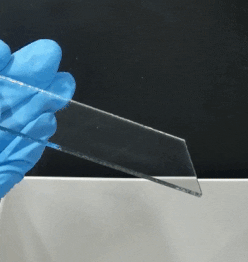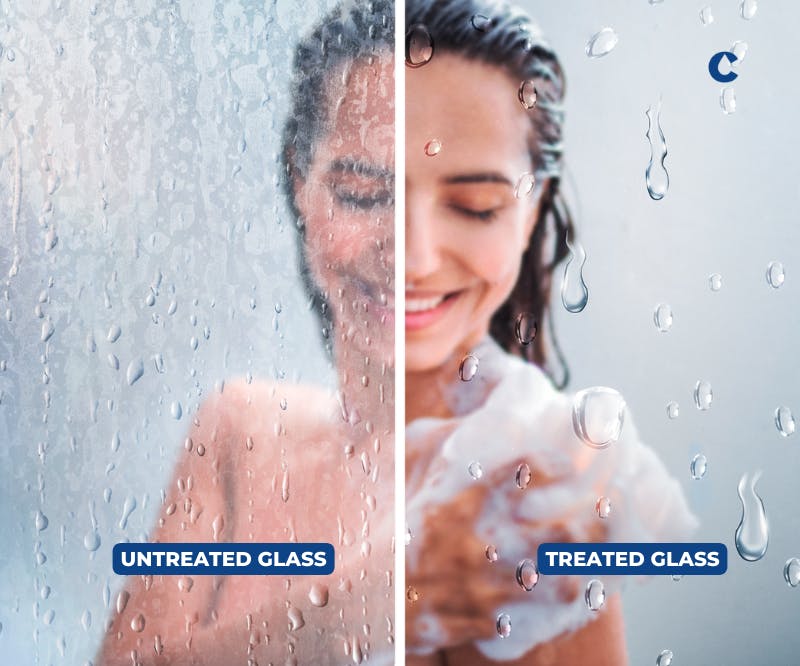 Left side: Untreated Glass | Right side: Treated Glass
This easy clean treatment is increasingly being used in commercial and residential projects, differentiating from the competition because:
Once-only application: IGP does not require regular revitalizer products to maintain performance over the clearly stated lifetime of the product;
Protects against corrosion, etching and/or pitting from contaminants, cement slurry and/or paint during construction;
Avoids harsh chemicals on future cleanings, being a first step for a greener chemical industry;
It's a non-abrasive treatment;
It's a fume-free formula: perfect to apply both indoor and outdoor without damaging your health;
Easy to apply: a ready to use treatment with just a sprayer and a polisher;
Provides a real cost saving on cleaning for the client, whilst providing a noticeably cleaner surface between cleaning;
Environmentally-friendly – avoids the use of detergents, does not damage the silicone.
Industries & Application
Treatment to be applied on all types of glass such as shower cubicles and screens, mirrors, windows, glass facades, glass fences for swimming pools, taps and towel rails, all types of industrial glass, etc.
Glassware
Manufacturers of equipment with glass surfaces
Cleaning companies and teams
Construction companies
Architects and Interior Designers
Available Formats
IGP PRO can be applied to all types of glass, such as tempered, laminated, thermal, textured, tinted, acid etched, sandblasted, solar glass, and curved glass, and in both new and existing glass, and in all types of applications such as shower enclosures, mirrors, windows, glass doors, solar panels, skylights, or pool screens.

Yes, IGP can be applied on all kinds of chrome or stainless steel fittings, such as taps,  tower rails, handles, etc., with identical results to those obtained in the glass.

No, this solution is ready to use. Just apply it directly to the glass/non-porous surface you want.

In case of doubt contact us.

After opening the package, ChemiTek recommends using it in the following 12 months.

For further questions contact us.

Hydrophobic and oleophobic coatings are aqueous solutions that when in contact with the coated surface or with some material that has hydrophobic properties, have an anti-icing, anti-stick, and anti-corrosion effect, repelling water and oil.

IGP has been awarded certification from TÜV SUD for both durability and easy to clean functionality. The durability test was carried out to simulate a lifetime of 5 years on interior and exterior use.

In addition, the IGP product is also commonly used by Architects, Interior Designers, Cleaning & Maintenance teams due to its hydrophobic coating that allows for easy cleaning of cement paste and paints that may fall during the construction/ interior remodeling phase.

IGP is manufactured by ChemiTek – Química Avançada S.A., which is accredited to the very latest ISO 9001:2015 international standards.

Yes. After applying the product, it is not recommended to come into contact with water or any type of liquid for 1.5 to 2 hours.

Yes, IGP has hydrophic (water repellent) and oleophobic (oil repellent) properties, that make the glass easier to clean.

No, the wear of the coat doesn't cause stains and is not visually noticeable. To confirm if your glass continues to be protected check if the water repellence effect is still present.

Proper glass preparation is essential for good adhesion of the coating to the glass. The glass must be free of dirt, grease and limescale incrustations, soap and/or shampoo.

Yes, a new glass also must be prepared. However, since there are no incrustations present, the glass only needs to be cleaned and degreased.

Yes, on glass that already shows some degradation it may no longer be possible to remove all stains and/or scratches, even after using a steel wool roll to remove all this dirt. The presence of the coating will prevent further degradation of the glass and make it easier to clean.

No, the coating will not stain nor damage materials, such as plastic, silicone, aluminium, or wood. If the coating meets any of these materials during application, simply wipe the surface to clean until the product is no longer visible. Temporary water repellence may occur on that same surface.

The recommended quantity is 5 to 10mL per square meter. A fine mist over the entire surface is sufficient. Keep in mind the product should not be enough to run off.

In case of over-application of the product, the solution is simple. The glass will look greasy, and it will be necessary to remove the excess product with a microfiber cloth. After removing the excess, use a clean microfiber cloth to polish the surface until the product is no longer visible.

The ideal temperature to apply the product is between 15ºC and 30ºC, and low to medium relative humidity. These two factors are particularly important when applying the product on exterior glass. Low temperature will delay the curing of the coating and high temperatures lead to accelerated evaporation of the product during application.

The recommended curing time is 1,5 to 2 hours. During this time the glass should not have any contact with water neither with any chemicals such as soap scum, shampoo, and/or conditioner.

No, because if it rains whilst in the curing period, the coating will not be affected, and as such it does not need to be reapplied.

When you notice the coating has reached the end of its life and is no longer performing as expected, you can reapply the IGP solution. Simply repeat the process as you did the first time. It is not necessary to remove the previous coating before reapplying IGP.

Yes, IGP is not a cleaner it is a hydrophobic coating, which helps keeping the surface cleaner for longer by making it harder for dirt to build up. However, keep in mind this product does not eliminate the need for cleaning your surfaces with IGP, as it is not a self-cleaning product.

The correct application of the coating guarantees a lifespan of more than 5 years.

ChemiTek recommends that a glass protected with IGP should be cleaned with a microfiber cloth and, if necessary, a mild, non-abrasive, neutral pH detergent. NEVER use abrasive and/or highly acidic or alkaline detergents, as it will greatly shorten the life of the coating. If your area has hard water and causes a lot of limescale deposits, we suggest using pure white vinegar diluted in water in a 1 to 5 ratio (200mL of vinegar for every litre of water) to clean the glass.

The wear caused by normal cleaning of the glass with a microfiber cloth is extremely low. The main reasons for accelerated wear of the coating are the use of aggressive and/or abrasive detergents and the use of scouring pads and other abrasive tools for cleaning the glass.
documents
Brochures
Technical Sheet
Request quote