address
R. Dr. Francisco Sá Carneiro
Zona Industrial de Bouro - Letra C
4740-010 Esposende, Portugal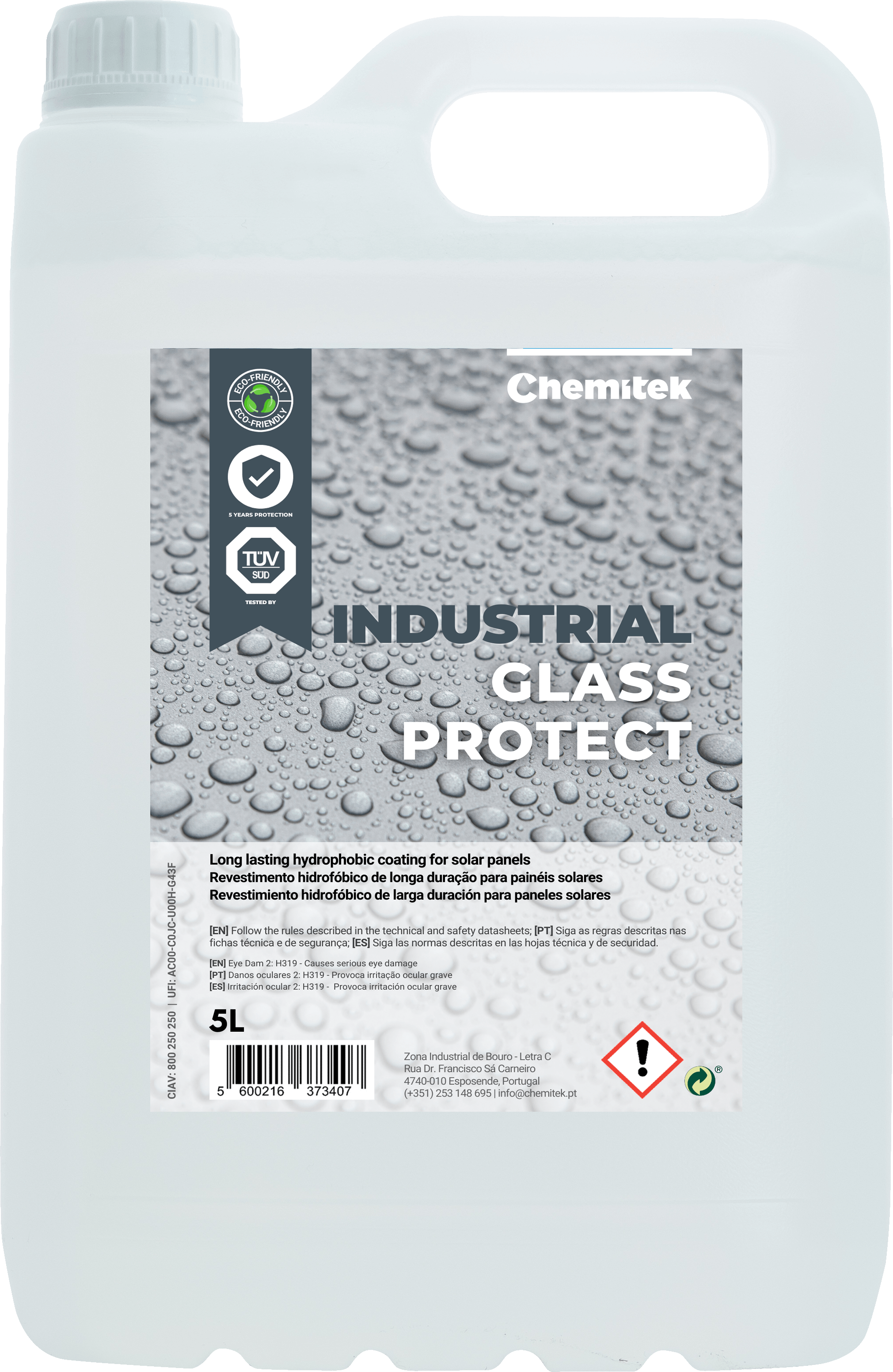 Industrial Glass Protect
Are you a solar glass manufacturer? Add value to your product with this long-lasting hydrophobic protection, making cleaning easier.
Solar glass treatment to protect from dirt and cut cleaning time by 90%
Industrial Glass Protect is a ready to use product for soiling mitigation and efficiency enhancement specially developed and certified for solar panels.
Its hydrophobic (water repellent) properties reduce the adhesion of dust to the glass, facilitating future cleanings by keeping the panel cleaner and easier to clean, increasing the efficiency of the next wash as well as the irradiance on rainy days, producing up to 5% more energy.
The hydrophobic coating on the Industrial Glass Protect was designed to be applied on a factory level and for specific weather conditions (either extremely rainy and humid, or extremely drought and dry).
This coating has been fully tested and certified by the international laboratory TÜV Sud as its hydrophobic properties will last up to 5 years, won't damage the panel and its "easy cleaning" function works.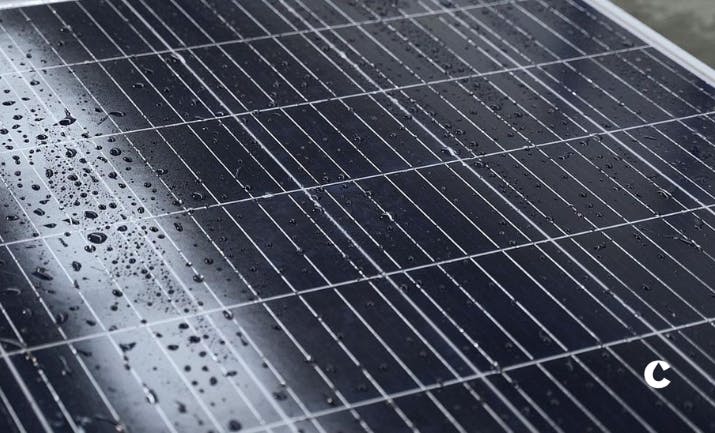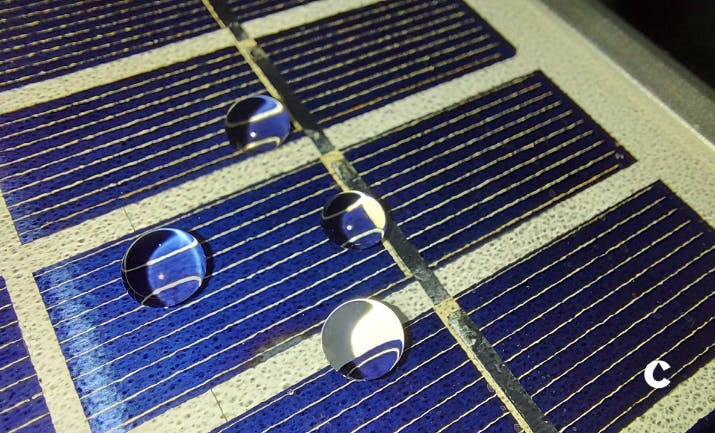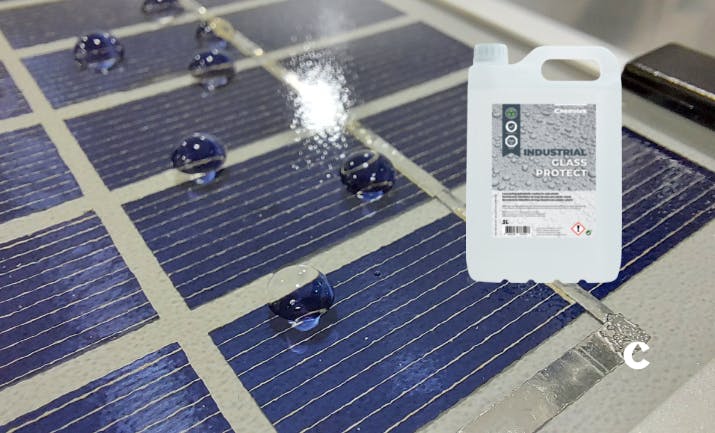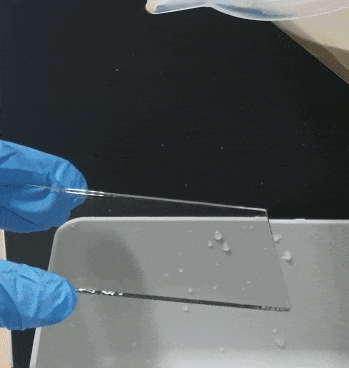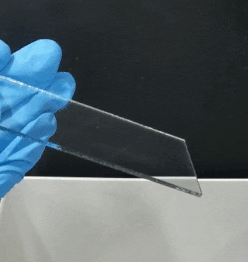 Effect of the hydrophobic coating from the Industrial Glass Protect solution
Solar panel water repellent due to IGP
Water repellency effect due to IGP applied on solar panel
Glass unprotected with IGP - no effect visible
Glass protected with IGP - hydrophobic effect visible
Industries & Applications
Hydrophobic coating for photovoltaic and thermal solar panels, photovoltaic solar roofs, etc.
Photovoltaic plant installers
Solar panel cleaning companies
Solar parks with their own maintenance teams
Available formats
Industrial Glass Protect gives your solar panels a hydrophobic coating, which repels water and dirt from your panel, reducing soiling adhesion to your panel, water consumption, and cleaning time in subsequent washings, and thereby increasing energy production by up to 5%.

The Industrial Glass Protect is a product specially developed to apply on factory. Make sure the surface of your panel is clean and degreased. Use latex gloves throughout the process to ensure a completely clean and dry surface. Then, apply a fine mist of product on the desired surface, making sure you polish the treated surface with a microfiber cloth or a polishing beret. After polishing the entire surface, do not expose the glass surface to water or any other liquids for at least 1.5 to 2 hours.

To seal the solar glass, after having the entire surface thoroughly cleaned, you must apply a fine mist of product spraying it between 30 cm to 40 cm.

Prevent the product from drying on the surface without being polished. It is advisable to apply in smaller areas in case of higher ambient temperatures.

ChemiTek recommends applying approximately a volume of 5-10 mL/m2. For large surfaces, application using a spray gun is recommended.

After treating the surface, do not expose the glass surface to water or any chemical solution for at least 1.5 to 2 hours.

No, this solution is ready to use. Just apply it directly to the glass/non-porous surface you want.

In case of doubt contact us.

Once the Industrial Glass Protect has been opened, it must be used within 12 months to ensure the product's characteristics.

Industrial Glass has been awarded certification from TÜV SUD for both durability and easy to clean functionality. The durability test was carried out to simulate a lifetime of 5 years on interior and exterior use.

This product has also 12 conformity letters from the world's top 15 PV manufacturers as it won't damage the silicone or ARC of the panels.

A good cleaning procedure is necessary in order to achieve the desired stability over time.

Yes, a new glass also must be prepared. However, since there are no incrustations present, the glass only needs to be cleaned and degreased.

In case of over-application of the product, the solution is simple: the glass surface will look greasy, and it will be necessary to remove the excess product with a microfiber cloth. After removing the excess, use a (new) clean microfiber cloth to polish the surface until the product is no longer visible.

Do not apply at temperatures below 5°C or above 30°C; the ideal application temperature is between 15 and 25°C. These two factors are particularly important when applying the product on exterior glass. Low temperature will delay the curing of the coating and high temperatures lead to accelerated evaporation of the product during application.

When you notice the coating has reached the end of its life and is no longer performing as expected, you can reapply the IGP solution. Simply repeat the process as you did the first time. It is not necessary to remove the previous coating before reapplying IGP.

Yes, Industrial Glass Protect is not a cleaner, it is a hydrophobic coating, which helps keeping the surface cleaner for longer by making it harder for dirt to build up. However, keep in mind this product does not eliminate the need for cleaning your solar panels with IGP, as it is not a self-cleaning product.

The correct application of the coating guarantees a lifespan of more than 5 years.

ChemiTek recommends that a glass surface protected with IGP should be cleaned with a microfiber cloth and, if necessary, a mild, non-abrasive, neutral pH detergent. NEVER use abrasive and/or highly acidic or alkaline detergents, as it will greatly shorten the life of the coating. If your area has hard water and causes a lot of limescale deposits, we suggest using pure white vinegar diluted in water in a 1 to 5 ratio (200mL of vinegar for every litre of water) to clean the glass.

Yes, this product is non-abrasive and environmentally-friendly, being developed to apply both indoor and outdoor. When applied inside, the ventilation of the space must be guaranteed.
documents
Brochures
Technical Sheet
Request quote